Tampa Personal Injury Attorney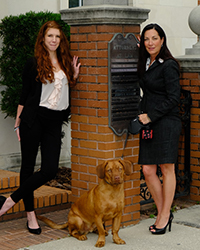 When you get hurt because of another person's negligence, you are entitled to compensation for your injuries from the negligent party. Unfortunately, actually getting that compensation is never as simple as just filing a claim with the insurance company. Instead, you'll have the burden of proving that the other person was at fault and that their negligence caused your injury. You'll also need to be able to prove your injuries and justify the amount of money you are asking for. Proving a personal injury case is a complicated matter, and you'll be facing insurance company claims adjusters and lawyers who do nothing all day long except try to settle claims for as little as possible or find ways to avoid any liability at all. If you want the best chance of being successful on your claim and recovering the most compensation, you need to hire an experienced and professional personal injury attorney to represent you.
Tampa personal injury attorney Laura A. Olson has over 25 years of experience in the practice of law. The Law Office of Laura A. Olson, P.A., handles the full range of personal injury claims in South Tampa and the greater Tampa area, including car accidents, motorcycle accidents, premises liability, slip and fall, dog bites and more. We take on the tough cases and the most serious injuries and use our skills and experience in civil litigation to achieve excellent results for our clients, whether negotiating a full and fair settlement with the insurance company or taking your case to trial when necessary to get the best result. Learn more about Florida personal injury law below, and contact The Law Office of Laura A. Olson, P.A., if another party has harmed you through their negligence.
What can I recover in a personal injury claim?
The legal term for the money you can recover in a personal injury claim is "damages." You can recover all the actual damages that you can prove were caused by the accident. Actual damages include both economic and so-called noneconomic damages. Economic damages are direct, financial losses that result from the injury, such as:
Present and future medical expenses
Lost wages for the time you were out of work
Lost income or diminished earning capacity if you are temporarily or permanently disabled from working
Noneconomic damages, in contrast, refer to harm you suffer but can't quantify precisely, such as:
Pain and suffering
Emotional distress
Mental anguish
Loss of companionship
Scarring and disfigurement
It is up to you and the insurance company to work out what these damages are worth. In a trial, the jury decides. Insurance companies have formulas for these damages based on the actual damages suffered, but an experienced personal injury attorney will know what the claim is worth based on your specific circumstances and what a jury would be likely to award.
What if the insurance company says I was partly to blame in causing the accident?
It is a common tactic of the insurance company to try and pin all or part of the blame for the accident on you. Under Florida's comparative negligence statute, any money you recover in a personal injury claim is reduced in proportion to the percentage of fault assigned to you. Don't just take the insurance company's word for it, though. Your attorney may have a different opinion of whether you were negligent or how much of the accident was your fault. If we can't reach an agreement with the insurance company and settle your case, we'll go to trial, where a jury will decide who was at fault based on the evidence.
Comprehensive Tampa personal injury attorney
The Law Office of Laura A. Olson, P.A., is prepared to take on any personal injury matter in Tampa. Call on our office for help with any of the following:
Car Accidents – After a crash, you can file a claim under your no-fault insurance coverage. However, this Personal Injury Protection (PIP) insurance only covers 80% of your medical bills and 60% of your lost income. PIP coverage is also limited to $10,000, but if you didn't receive care for an emergency medical condition with 14 days after the crash, the PIP limit is lowered to $2,500. If you can prove a "serious injury" within the meaning of Florida car accident law, you can sue the negligent driver for all of your damages.
Motorcycle Accidents – Motorcycle riders do not get the benefit of no-fault insurance coverage in Florida. Instead, the injured rider must proceed directly against the at-fault driver who caused the crash.
Slip and Fall – Property owners have a duty to maintain their premises in a reasonably safe condition for the safety of customers, guests or members of the public. This duty may include regularly inspecting the property and promptly cleaning up any spills, fixing any hazards, or putting up a warning that a danger exists. Property owners may try to claim they didn't have notice of the condition or a reasonable time to repair it, or they may say you were negligent in not watching where you were going. We know how to investigate slip and fall accidents and prepare these complex claims.
Dog Bites – Dog bites can cause severe and lasting physical and emotional injuries, and sometimes these attacks are fatal. Dog owners are strictly liable under Florida law for injuries caused by their animals. It doesn't matter if the owner knew the dog was dangerous, and you don't have to prove the owner was negligent in the way the owner kept the animal. Dog owners might still have some defenses to liability, such as if they had a "bad dog" sign in their yard or if they can prove you somehow provoked the attack. Even a "bad dog" sign won't protect a negligent dog owner, so make sure you hire an attorney who thoroughly understands the ins and outs of Florida dog bite law.
Help is Available for Personal Injury in Tampa
For help with a personal injury claim in Tampa, call The Law Office of Laura A. Olson, P.A., for a free consultation at 813-222-0888. We only charge a fee if we recover compensation for you.