Virtual Visitation/Electronic Communication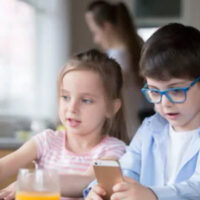 Upon separation or after a divorce, living separately from your children can be very difficult for both the parent and the child.  A partial solution to this unfortunate problem is the use of Virtual Visitation through the wide range of modern technologies that are currently available.  While Virtual Visitation is not a perfect substitute for being with your child, it does at least allow parents to maintain close contact with their children no matter where they may live.  Here, our Tampa child custody attorney provides an overview of what parents should know about Virtual Visitation/Electronic Communication in Florida.
Virtual Visitation: Florida Courts May Order Electronic Communication 
Pursuant to Florida Statutes § 61.13003, Florida courts have the authority to order Virtual Visitation rights between a parent and a child.  Virtual Visitation may include:
Phone calls;
Facebook, Instagram, and other social media resources;
Text messages;
Skype/FaceTime;
Zoom;
Google hangouts; and
Emails
Other types of communicative technology.
The Key Factors that Florida Courts Consider  
In determining whether to order Virtual Visitation, Florida courts must consider:  
Best Interests of the Child:  The Court's primary consideration is whether electronic communication is in the child's best Interests.  The Court will not order electronic communication if there is evidence that the communication somehow will be contrary to the child's health, safety or emotional well-being.  Alternatively, the Court may also place controls and constraints on the type of electronic communication that is allowed to be utilized, the frequency of the electronic communication, and the length that the communication may last.  The desires of the parents are secondary to the child's best interests.
Availability and Affordability:  The Court must also consider whether communication equipment and technology to provide electronic communication is reasonably available, accessible, and affordable for the parents.  Courts will not order a form of electronic communication that is not possible for the parents.  Additionally, if there is a cost involved in implementing the particular form of electronic communication, the Court often times will apportion that cost between the parents.
Virtual Visitation and the Coronavirus 
In light of the COVID-19 (coronavirus) outbreak, we have had more parents than ever asking questions about Virtual Visitation and their legal rights.  As of July 6, 2020, the Florida Department of Health has confirmed 206,000 COVID-19 cases in this state.  Public health officials continue to recommend social distancing to help control the spread of the disease, and self-quarantining if you believe that you have been exposed to an infected person.  Additionally, travel for some parents has been impeded or has been made very difficult because of COVID-19.  With the travel difficulties and health concerns presented by the pandemic, Virtual Visitation may be a very effective tool to maintaining close and continuing contact between an impacted parent and his/her child.
Parenting Plans – Provisions for Virtual Visitation 
It is best if the parents can agree upon the manner, method and frequency of Virtual Visitation.  If an agreement can be reached, it is important to ensure that the agreement is accurately reflected in the language of the parents' Timesharing Agreement or Parenting Plan.  However, agreement is not always possible, and the decision is then left to the court to determine what type and frequency of electronic communication is in the child's best interests.  Additionally, sometimes parents find that the language contained in their Timesharing Agreement or Parenting Plan may not address this issue with enough specificity, thus leaving plenty room for arguments and conflict long after the case is over.  In this circumstance, even after the case is over, a parent can file a motion with the court to seek Virtual Visitation.
Call Our Tampa, FL Child Custody Lawyer Today 
At the Law Office of Laura A. Olson, P.A., our Florida family lawyer is an experienced, attentive advocate for clients.  If you have questions about Virtual Visitation, we are here to help.  To request a completely confidential case evaluation, please contact our law firm now.  With an office in Tampa, we represent parents throughout the region, including in Clearwater, St. Petersburg, Largo, Brandon, Riverview, Palm Harbor, and Lakeland.
Resources:
leg.state.fl.us/statutes/index.cfm?App_mode=Display_Statute&Search_String=&URL=0000-0099/0061/Sections/0061.13003.html
floridahealthcovid19.gov/
https://www.attorneylauraolson.com/update-to-do-i-have-to-exchange-my-child-for-timesharing-during-the-covid-19-pandemic/